Arsenal jadi mangsa penipuan selepas kerjasama dengan BYD Auto ditandatangani oleh seseorang yang bertindak sebagai pekerja syarikat daripada China.
Pada April lalu, Arsenal telah mengumumkan bahawa mereka telah menandatangani perjanjian dengan pengeluar kenderaan elektrik paling laris di dunia iaitu BYD Auto.


Bagaimanapun, hanya tiga bulan selepas itu, pekerja syarikat China yang menandatangani perjanjian tersebut dikatakan adalah penipu dan sebenarnya tidak bekerja di sana menurut laporan
Channel News Asia
.
Penipu yang disyaki, Li Juan, kini ditahan dan sedang disiasat oleh polis Shanghai.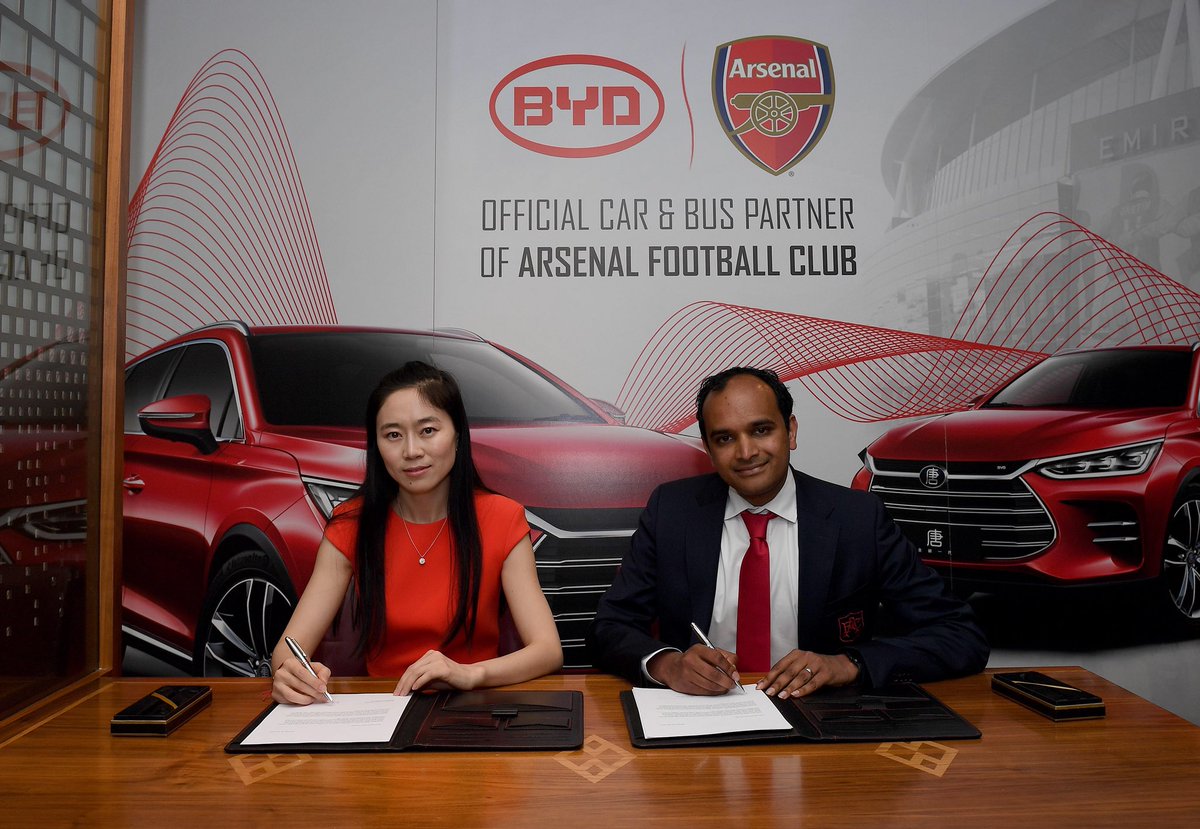 Li Juan(kiri).
Dan pihak syarikat BYD turut menafikan bahawa Li Juan merupakan pekerja mereka dan perjanjian tersebut dianggap tidak sah.
Pun begitu, setakat ini laman rasmi Arsenal masih belum membuat sebarang kenyataan mengenai isu ini.
Kenyataan daripada pihak BYD :
(Infocast News) BYD Company (01211) noticed that some media published or reproduced false reports about the company, which involved misinterpretation of the Statement on Conducting Related Businesses by Li Juan and Other Related Persons through Illegal Use of the Name of BYD released by the company on 12 July 2018 and distortion of facts.
The company clarifies that:
1. Li Juan and "Chen Zhenyu" as alleged are or were neither employees of BYD, nor directors, supervisors, or members of senior management of BYD, and BYD has never authorized the aforesaid persons to conduct businesses in the name of BYD or sign any contract on behalf of BYD.
2. BYD and its subsidiary, Shanghai BYD Electric Vehicle Co., Ltd. (上海比亞迪電動車有限公 司), did not lend their seals to Li Juan and their seals are not lost. Therefore, the seal stamped on the contract signed by Li Juan in the name of BYD and Shanghai BYD Electric Vehicle Co., Ltd. (上海比亞迪電動車有限公司) was forged.
3. Li Juan was suspected of committing a crime due to faking the identity of staff of BYD and using the forged seal to sign contracts, which BYD has reported to the police. The police is getting involved in the investigation and Li Juan currently has been taken for enforcement actions by the police.
4. The aforesaid actions of Li Juan harmed the interests of related parties and damaged greatly the reputation of BYD. As the injured party, BYD will, together with all parties, cooperate with the police to investigate and protect its legitimate rights and interests according to the laws.
Pengumuman Arsenal pada April lalu mengenai kerjasama diantara kelab dengan syarikat pengeluar kereta elektrik China.
Arsenal Media : 23 Apr 2018
We have signed a global agreement with the world's best-selling electric vehicle manufacturer, BYD Auto. BYD becomes our official car and bus partner.
China-based BYD - which stands for Build Your Dreams - designs, develops, manufactures and distributes cars, buses, commercial vehicles and rail stock.
Based in Shenzhen, Guangdong Province, BYD has been the world's biggest new energy car sales business over the past three years. It provides single and double-decker buses to Transport for London and employs more than 220,000 employees across five continents.
The deal with BYD represents a further step forward in how we work with our partners to build a greener future, following our work to power Emirates Stadium and all other Arsenal sites with 100 per cent renewable energy.
The partnership, which came to fruition following our successful pre-season tour to Shanghai and Beijing in 2017, will help drive BYD's global brand awareness through a broad range of marketing rights including pitchside LED signage and branding on dugout seats at Emirates Stadium. BYD also has access to Arsenal Legends for special promotional events in China.
BYD will work closely with us to create unique experiences for its customers and engage with fans through the club's popular social media channels. Arsenal has one of the largest followings of any club in China with 4.7 million followers on Weibo, one of the biggest social media platforms in the country.
Vinai Venkatesham, our chief commercial officer, said: "We are proud to become the first Premier League club to enter into a global electric vehicle partnership, and to do so with one of China's largest and best-known companies. Electric vehicles are destined to form a big part of our transport future so we're delighted to welcome the world leader in this field into our family of official partners.
"This partnership represents another move towards improving our contribution to environmental sustainability, something both ourselves and BYD are passionate about. It's a progressive step for us and is a direct result of our successful pre-season tour in Shanghai and Beijing.
"Arsenal is one of the most popular football clubs in China and we are looking forward to supporting the ambitious global growth plans of BYD and helping them engage with the millions of supporters we have in China and around the world."
Sherry Li, BYD's brand and public relations director, said: "Arsenal is a club steeped in history and is one of the most popular football clubs among fans in China. This partnership shows that BYD, Arsenal Football Club and its global fanbase believe in a greener future and the deal will help us build our name here in China and around the world."